Mozzarella-Stuffed Monster Meatballs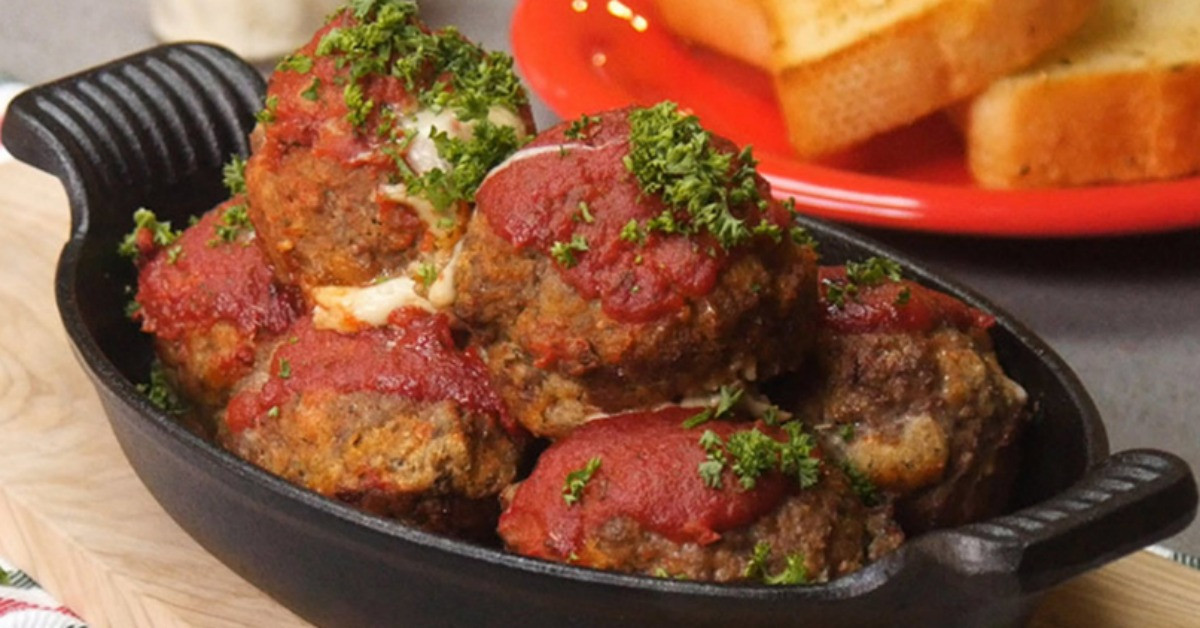 These meatballs are great as an appetizer for a party, and they even work as meatballs with your traditional spaghetti. You'll love biting into these - the ooey gooey cheese in the middle is the best part!
Ingredients:
2/3 cups fresh breadcrumbs
1/3 cup milk or water
1 1/2 teaspoon each garlic powder, onion powder and Italian herb seasoning
3/4 teaspoon salt
1/2 teaspoon pepper
1 pound lean ground beef
4 ounces mozzarella cheese, cut into 8 cubes
1/2 cup bottled strained tomatoes (passata)
2 tablespoons tomato paste
1 tablespoon packed brown sugar
2 teaspoons cider vinegar
2 tablespoons chopped fresh parsley
Directions:
Preheat oven to 400 degrees.
In bowl, mix bread crumbs with milk. Let stand for 5 minutes. Stir in egg, garlic powder, onion powder, 1 teaspoon of the Italian herb seasoning, 1/2 teaspoon of the salt and 1/4 teaspoon of the pepper. Mix in beef just until combined and no streaks of bread crumb mixture are visible (do not overmix).
Shape into 8 meatballs. Supporting opposing sides of 1 meatball with 2 fingers, press opposite index finger into centre to create 1-inch well; place 1 cube of the mozzarella inside. Press meat over to enclose mozzarella and reshape meatball. Repeat with remaining meatballs and mozzarella.
Place each meatball into the wells of lightly greased muffin pan.
Stir together strained tomatoes, tomato paste, brown sugar, vinegar and remaining Italian herb seasoning, salt and pepper, then spoon over meatballs.
Bake until instant-read thermometer inserted in several meat loaves reads 165 degrees, about 16 minutes. Let stand for 5 minutes.
Sprinkle with parsley and enjoy!
Source: Shared Food