This is a rock painted by a very talented young artist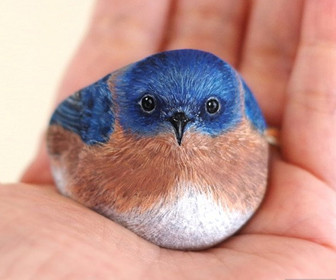 This artist turns ordinary stones into adorable animals that fit in the palm of your hand.
The stone artist Akie Nakata is a painter who "rocks" by transforming pebbles into magnificent, almost realistic works of art.
Akie Nakata is a Japanese artist who turns to stones for her inspiration. Quite simply known as Akie, the artist "shakes up" this tendency to transform pebbles into beautiful works of art.
The self-taught artist has loved collecting stones since childhood. She chooses the ones she thinks are supposed to be her own characters, according to the magazine My Modern Met. She gives them life by painting them with acrylic paints and has been doing so since 2011.
The idea germinated as she walked along a river and spotted a particular pebble that looked like a rabbit. She wrote to MMM, stating, "The stones have their own intentions, and I take my encounters with them as clues [...] to go ahead and paint what I see on them."
Once you have looked at his work, it may take you a second to realize that the animals are not real. Her work is complex and beautifully detailed and she works on each stone with the greatest care. The fascinating thing about these painted stones is how realistic they can be.
Where does she find these stones? Akie usually chooses them herself. After choosing the stones herself, she tends to wonder, "Were do I position the spine? Is it in the right place? Does this seem correct to me? Am I forcing something that doesn't agree with the natural shape of the stone? "
For Akie, it's not just about the details, but also about finding life in them. She uses acrylic paint while working on each stone. She paints a range of animals, from dogs and cats to birds and mice. She says that she feels her job is done only when she sees "the eyes are now alive and looking back at me." She adds: "For me, finishing a job does not concern the quantity of details that I draw, but it is if I feel life in stone. "
Akie looks beyond the surface and sees in the stone that which is not evident on the surface. Most people can see a stone and think it is not important. It's just a piece of rock, but not Akie. When she holds a pebble in her hand, she feels that the rock has been "the silent witness over the millennia".
She believes the rocks have stories to tell and reveals, "Sometimes I paint while I talk to the stone while I hold it in my hand." Akie wants her stones to be treated the way people treat their own lives "because we all stand on the same earth, and we come from the same earth."
You can place an order by sending a message to Akie on her Facebook page and seeing all of her work on her Instagram feed as well.