Parents Warning About Popcorn After Their Son Was Admitted Into Surgery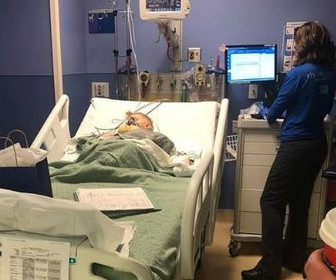 Family movies make for wonderful family memories, unfortunately for Nicole Goddard, last month's family movie night was a time she'd rather forget. Nicole and Jake Goddard, of Parker, Colorado, say they sit down every weekend to watch a family movie with their three children.
For Nicole Goddard, last month's family movie night was a time she'd rather forget. She shares her story to help people understand that a child choking on popcorn can be a very serious thing even after they stop choking.
Nicole and Jake Goddard, of Parker, Colorado, were watching Mrs. Doubtfire, when their youngest child, Nash, started to choke.
"He started making a gagging noise and [Jake} jumped up really fast to grab him," she told FOX news. "He was getting ready to do the Heimlich on him and then he took a breath."
Nash started breathing normally and his parents assumed he had swallowed a wayward kernel of popcorn.
They were wrong. And when you finish reading her story you will not be giving popcorn to children under the age of five.
Here is Nicole's Facebook post. It outlines what happened next in a warning that has now been viewed over a million times.
"He seemed completely fine and continued to watch the movie. The only thing we observed was a cough he developed after the episode," she wrote.
A nasty cold had recently made its way through the Goddard household and she assumed he might be coming down with it. Nash went to bed and the family got ready to start the week.
"Monday came and [in the evening] I noticed Nash felt warm and he was super fussy. He had a fever so I gave him Motrin and put him to bed."
She says she spent the night with him and began to notice his breathing was becoming labored. She called her pediatrician who told her to take him to the hospital "ASAP."
She took him to the ER, where he underwent a chest X-Ray and a bronchoscopy (a procedure that examines the bronchial tubes). Nash had to be put under for the procedure, at which point Jake was called back from his business trip.
The doctors found six pieces of popcorn embedded in Nash's lungs. The body had recognized them as a foreign substance and had begun fighting them as an infection. The inflammation caused pneumonia to enter Nash's lungs. His lungs were so swollen that the doctor wanted to do a second procedure to ensure all pieces were removed.
"The second procedure was done and once again the poor guy had to be put under and rolled off to surgery," Nicole wrote.
Popcorn is unsafe for children under 5 as they don't have the physical strength to cough up tiny bits that might go down the wrong tube. Nicole said she's sharing her story so that other parents don't make the same mistake she did.
"We're so thankful our little man came out ok. All of this over popcorn, which is eaten on a regular basis in our home."
The post has been shared over 100,000 times and has reached people around the world. Many offer their support, but some others have shared tragic stories of their own.
"My little brother passed away from a similar incident but didn't have any symptoms until it was too late. It took an autopsy to find the cause," Betty Cornutt Slaton said.
Many parents responded saying their days of letting their little ones eat popcorn were over.
Nicole's post may have saved a life.