HOW TO GROW TOMATOES WITH 4 SLICES AND SOME DIRT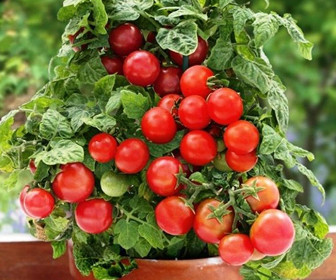 This is a fail proof way to grow tomatoes on the balcony or in the garden.
Tomatoes are probably the favorite and most commonly used ingredient in cooking.
From decoration for a main dish to fresh juice, delicious soups, sauces, sandwiches and stews, tomatoes can accompany every meal, at a very low cost - even lower if you grow them.
Also, the list of health benefits is endless:
Improved eye health, thanks to the presence of vitamin A.
Prevention against cardiovascular diseases, thanks to the presence of lycopene, which prevents the oxidation of serum lipids.
Powerful antioxidant properties due to their high nutritional value.
Fight against lung cancer, due to the presence of the two compounds, chlorogenic acid and coumaric acid, which fight the nitrosamines produced by the body, responsible for cancer.
Rich in vitamins and minerals - high levels of vitamin C, vitamin A, vitamin K as well as potassium and iron.
Stimulate the digestive system.
Maintain healthy skin, teeth and hair.
Tomatoes are extremely popular as an ingredient in beauty products and only one tomato juice per day has been proven to relieve and cure severe sunburn.
Lower blood pressure, due to the large amount of potassium.
Reduce the incidence of urinary tract infections.
In short, the list is only there to highlight the great importance of tomatoes and their many health benefits.
But what if I tell you that overripe and rotten tomatoes are your best friends from now on? As crazy as it sounds, old and rotten tomatoes will give you great tomato plants.The only thing you need to do is a pot, soil and a sliced tomato.
The process is extremely easy and yet satisfying, because at the end of the process you will get fresh and organic tomatoes. If you space the seeding process in time, you will have fresh tomatoes every week into late fall.
And don't forget that tomatoes are extremely simple to freeze. Just put them in a bag, a container or even directly in the freezer. To use them, put them in boiling water for 2 minutes and peel.
Follow these simple steps and enjoy fresh tomatoes:
Step 1: Take four slices of old tomatoes, each slice should be about a quarter-inch thick or more for the seeds to be exposed to the soil. (You can use a single slice if you want just 2 or 3 plants)
Step 2: Place the slices on top of a moist potting soil in the pot.
Step 3: Cover the slices with a layer of moist soil just thick enough for the tomato seeds to germinate.
Step 4: Keep the soil moist by watering or spraying as soon as the soil is dry.
Step 5: After a week or two, expect seedlings to begin to germinate.
Step 6: Choose some of the strongest seedlings and move them to a separate pot, those that do not do so well, remove them.
Step 7: This is the end of the process, at this point you should be able to transplant your tomato plants into the garden or you can just leave them in the pot.
As you can see, everyone would be a pro at planting tomatoes and even those with no gardening experience should be very successful. With this simple and quick procedure, you will have fresh tomatoes at your fingertips and there is no price for that.
Watch this two-minute video to see the step by step procedure: