Growing tomatoes on a balcony or in a garden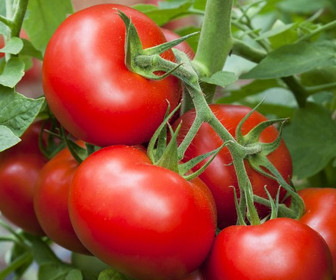 Tomatoes are one of the tastiest fruits to enjoy freshly picked. Also, with a few tips, your tomato plants will be healthy and prolific throughout the summer.
From sowing to harvest, the tomatoes will have no secrets for you!
If you buy potted tomato plants in a garden center, make sure they are compact and vigorous. The plants you choose should have no more than five to six leafy stems.
We can start sowing tomato seeds from mid to late February. Early sowing allows you to start harvesting fruit at the end of July.
After about a week, the seedlings should sprout. Move them to a very bright place. Water regularly. You can get rid of plants that are too weak or too small compared to the others.
You can space out the start of the plants to have tomatoes until late in the season.
Tomato plants should have more than six hours of sunshine a day. The ideal time to plant tomatoes is when there is no longer a risk of frost in your area.
Before transplanting a tomato plant, cut the 1st branch. Then plant it so that the next leaf touches the ground. See videos at the end of the article,
In a garden, tomato plants should be spaced 50 cm apart, in rows themselves spaced 70-80 cm apart.
It is a good idea to apply a mulch on the feet to conserve moisture.
For each tomato plant, provide a solid stake of about 1.5 m. You can stretch ropes between the stakes, which will allow the stems to hang on and support the fruit well.
In pots, tomatoes can easily be grown on a balcony or terrace. Just follow the same guidelines as for growing in the garden.
Get 12 "pots and pour a layer of gravel in the first 1/3 to avoid stagnation of water (which causes young roots to rot). Then add potting soil to the edge. Place a plant in the middle of the pot and water well. Keep at a temperature of around 20 ° C.
Water regularly, in the evening, at the base of the plants. It should always remain moist, hence the advantage of mulching. Avoid wetting the foliage as much as possible.
The best way to make the right choice of fertilizer is to choose a fertilizer designed specifically for tomatoes.
Prune all the small branches that grow on the stems, this will help the plant produce more fruit.
At the end of summer, partially remove the leaves to allow the sun to pass through and ripen the last fruits.
Tomatoes flourish with basil, mint, peppers, onions, leeks, beans, and cabbage. It is also a good idea to plant some flowers nearby (nasturtiums, carnations, Indian roses) that attract aphids and other insects, which prevents them from attacking tomato plants.
On the other hand, the tomatoes are kept away from beets, eggplants, potatoes, and peas.