Surgeons are warning - STOP using metal BBQ brushes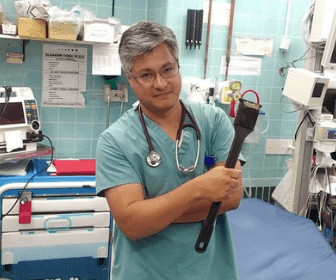 While there's nothing quite like a relaxing barbecue with friends and family, did you know your bbq brush bristles coming loose could actually pose a major threat to your life?
It may sound silly, but using a barbecue brush can actually land you in the ER and even kill you or a loved one.
Doctors are warning that metal barbecue brushes could constitute a major threat to public safety, as the tiny metal wire bristles can fall and become stuck on food.
In fact, several patients have been required to have tiny metal bristles removed from their throats.
Keep reading for all the info and tips on how you can avoid this major risk!
The Risk: Why BBQ Brushes Can Be Dangerous
Canadian surgeon Dr. Oswaldo Ramirez is chief of staff at Alliston's Stevenson Memorial Hospital and is warning backyard cooks that these bristles can pose a grave and life-threatening risk to your health once they detach.
This is why surgeons are urging the public to immediately throw away any metal barbecue brushes to prevent these major health risks.
Once a piece of food with an attached metal bristle has been swallowed, the metal bristles can seriously harm a person's mouth, throat, and digestive tract. The risks can be both extremely frightening and life-threatening.
While foreign objects can pass through a person's digestive system without any issues, it only takes one bristle to cause a life-threatening emergency.
How Bristles Damage the Intestines
According to Dr. Ramirez, once a bristle makes its way into the intestines they need perforate the intestine in order to extract the bristle. Dr. Ramirez remembers one patient who had a wire perforate his small intestine and he had to be transferred to a different surgical center with an Intensive Care Unit.
Don't take the risk, be sure to get rid of your metal barbecue brushes.
Life Hack: Clean Your BBQ Without Brushing
Did you know you can clean your barbeque without brushing it?
We've found a simple way to clean your barbecue without needing grill brushes.
Denis Pelletier, from DMP-BBQ, has proposed a new way of cleaning your barbecue that completely avoids brushing.
Once you're done using your barbecue, light it on high heat for just a few minutes. Pelletier says 99% of the residue left on the barbecue will be burned and carbonized. Once the grill is cool, use a rag to remove the remaining ash. Pelletier adds that it is not necessary to vigorously after the carbonization residues.
Source: Radio-Canada
Source: Barrie Today