5 Tips for Easy Window Cleaning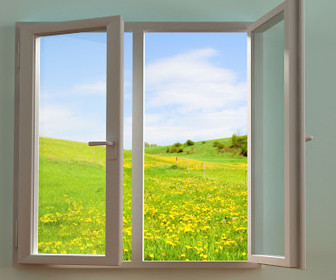 Washing our windows is a spring and autumn chore that gives us the greatest satisfaction ... once finished.
What could be more beautiful than seeing winter disappear from our windows! But, if you're part of the vast majority, you hate all the work needed to get this done.
There are many ways to simplify this chore and get quicker results.
1. Do the work on a cloudy day or at least when the windows are in the shade. The direct sun on the windows evaporates the soapy water leaving streaks and making the work more difficult.
2. While you're at it wash the window ledges and do a quick inspection to see if everything is proper. Soapy water and old rags are all you need for this.
3. We know all the multiple virtues of white vinegar and especially the simplicity with which vinegar makes windows and mirrors shine. While vinegar alone is perfect for interior windows, for exterior windows, you may need a little bit of help.
4. For exterior windows, soap and vinegar will be sufficient in most cases. Baking soda on a damp cloth will help if you have water stains. For extreme cases, there is always oven cleaner that will tackle the worst tasks (be careful not to put on the edges).
5. Newsprint is the best way to make things shine, not just window panes. However, be careful not to stain window edges, especially if they are made of white vinyl.
Now it's your turn… let it shine !!!