Beet and Feta Salad Recipe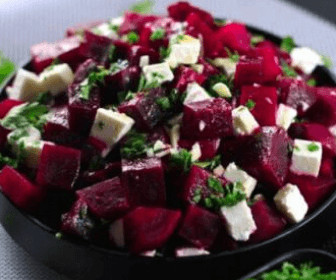 This refreshing beet and feta salad is a perfect accompaniment for lunches, potlucks, family dinners, and everything in between!
Not mention it only takes a few minutes to make and 30 minutes to chill, it's so easy you'll be making it all the time!
Ingredients
6 beets cooked and cut into small cubes
1/2 cup of feta cheese in small cubes
2 tablespoons chopped fresh parsley
1/2 red onion sliced ​​in thin slices
Vinaigrette Ingredients
3 tablespoons of olive oil
2 tablespoons of wine vinegar
1/2 teaspoon Dijon mustard
True ground pepper to taste
Preparation
Mix the vinaigrette ingredients in a small bowl.
Gently mix the vinaigrette and salad in a large bowl.
Cool 30 minutes before serving.
This recipe was originally posted on Gratuit.ca