No-Bake Jell-O Lasagna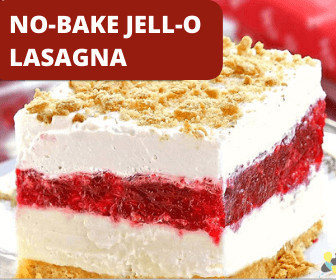 This is an easy no-bake recipe that is always a hit at family parties. Try it today and see how you like it!
Preparation Info
Prep time: 30 minutes
Rest time: 3 hours
Servings: 10 - 12
Ingredients
2 1/2 cups Graham crackers divided
1 stick of melted butter
8 oz packet of softened cream cheese
1/2 cup caster sugar
1 teaspoon of vanilla
Jello-O with raspberry
1 cup of boiling water
1 tablespoon lemon juice
2 cups frozen raspberries
2 x 8 oz Frozen Frozen Desserts - Thawed
Instructions
In a medium bowl, mix 2 cups graham cracker crumbs and melted butter.
Squeeze firmly into a crust of a 9 x 13-inch glass or porcelain bottom, allow to cool in the freezer for about 10 to 15 minutes to firm.
In a large bowl, combine softened cream cheese, caster sugar, vanilla and 1 bowl of whipped topping. Mix well. Spread the mixture evenly over the cooled cream.
Whisk the raspberry jell-O powder and boiling water in a large bowl until the gelatin is dissolved and stir in the lemon juice. Gently stir in frozen raspberries with warm gelatin. The cold raspberries cause the gelatin to start taking. Spread the raspberry mixture over the layer of cream cheese in the mould.
Cover with the rest of the container with the whipped topping. Refrigerate at least 2 hours, preferably overnight.
Cover with remaining Graham Crumbs and garnish with fresh raspberries before serving.
A delicious dessert not too sweet and perfect for a brunch! I added a layer of graham crackers on the jell-O mix and it was delicious.
This recipe was originally posted on Gratuit.ca and found on Sugarpron.com.