Birthday Freebies 2019: The Best Free Birthday Stuff for Kids and Adults in America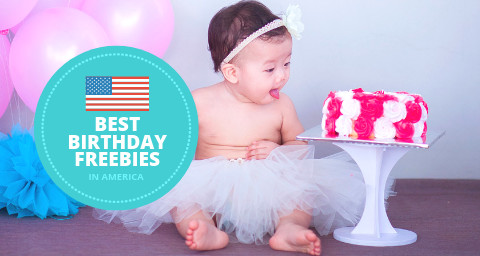 We love to celebrate birthdays here at Freebies, and scooping up the best birthday freebies in 2019 is just the icing on the cake!
If you're looking to treat yourself to some free birthday stuff, we've shared our list of favourite restaurants, retailers, and online sources for birthday freebies in America.
Just a little gift from our team to you, Happy Birthday!
Not your birthday?
You can always get the best free samples, coupons, and contests from top brands on Freebies.com. All members get unlimited access, you can join Freebies for free right here.
Best Birthday Freebies 2019
Don't live in the United States?
We have the best birthday freebies for 2019 for our Canadian and UK friends, too:
Best Retail Birthday Freebies in America
When you sign up for newsletters and loyalty programs with major brands and stores, you'll typically get a free gift to help you celebrate your special day. Not a bad trade off, especially for brands and product you're buying regularly anyway.
We've tested all of these retail birthday freebies for you to make sure they are legitimate and worth your time. Enjoy the birthday freebies!
1. Sephora Birthday Freebie
When you sign up to be a Sephora Beauty Insider, you'll get a free gift of minis during your birthday month. Joining is easy and free, and you'll earn points you can redeem for products throughout the year!
Once you've signed up to Sephora Beauty Insider, all you need to do is go to a Sephora store and get your free birthday surprise!
The best part of this offer is you don't need to go on your actual birth date, you just need to go during your birthday month.
This free gift will include multiple free beauty samples like lipstick, mascara, highlighter, haircare, and skincare samples.
The 2019 gift has two different options for regular members: a mini gift set from Kat Von D Beauty or Drunk Elephant. (VIB and Rouge members get more choices - get the full birthday freebie 2019 details here.)
PRO TIP: Go at the beginning of the month to make sure all 3 are still in stock!
2. Aveda Birthday Freebie
Here's another awesome birthday beauty freebie! Not many people know about this offer, it's a well-kept secret.
When you join the Aveda Pure Privilege Rewards Program you'll get a free birthday gift valued up to $23. Aveda produces extremely high quality beauty, hair, and skincare products (in case you're not familiar with the brand).
All you need to do is join their loyalty program (which is totally free!) and await your gift.
Your gift will likely be a sampler of multiple Aveda products.
You'll also get a certificate for double the Aveda rewards points on your next Aveda product purchase.
How do their rewards work at Aveda?
If you frequently purchase Aveda products, you'll earn 10 points for every dollar you spend at participating Aveda locations which you can redeem for salon services, products, and other exclusive prizes.
3. DSW Birthday Freebie
Designer Shoe Warehouse or DSW give all of their VIP Rewards members a $5 discount during their birthday month. Not a big freebie in the discount world, but it's still something!
You'll get two $5 coupons for your friends too, if you upgrade to Gold or Elite level.
4. bareMinerals Birthday Freebie
bareMinerals is a popular high-quality beauty brand, so they of course offer their own set of rewards to compete with the other big names in makeup:
Although they are pretty vague about the 2019 birthday gift on the site, we've head it is free full-size matte liquid lipstick - and it's pretty awesome!
You can join their "FAB" rewards program for free right here.
Best Restaurant Birthday Freebies in America
Hungry for free food on your birthday? Lucky for you, this is a pretty common reward with big chains.
Don't miss out this year, take a look through for your favourites now:
1. Starbucks Birthday Freebie
Starbucks gives out complimentary drinks and food to Starbucks Rewards members on their birthdays!
Celebrate your special day with a delicious free beverage or food item. With locations in towns and cities across the nation, you won't have to go far to get this treat.
To get this great offer, you'll need to register with Starbucks.
You can either register a card in-store or register online and download the app.
As a Rewards member, you'll enjoy special offers and promotions AND a free drink or treat for every 125 stars (points) you earn.
PRO TIP: To qualify for this offer, you must join 30 days before your birthday. Starbucks will send you an offer 30 days before your birthday to remind you of your reward. You'll also get a 15% off discount at StarbucksStore.com.
2. Ruby Tuesday Birthday Freebie
This is a pretty standard birthday offer, but free food is never a bag thing!
When you sign up for Ruby Tuesday's So Connected email newsletter you'll get a free appetizer worth up to $10 with the purchase of an entrée and a free meal on your birthday.
For your free birthday meal, you can choose between a delicious free burger or entrée at their salad bar. Whether you're a carnivore or a vegan/vegetarian, there is a meal for you.
With locations across the country, there's always a Ruby Tuesdays nearby!
Check out more information on this Ruby Tuesday offer right here.
3. Marble Slab Birthday Freebie
Marble Slab offers a delicious birthday surprise for their Slab Happy Rewards members:
All you need to get this delicious offer is download the Slab Happy Rewards app and register for your free account.
The exact offer is for a $5 off coupon on your birthday you can redeem. If you order comes to under $5, you'll enjoy a free treat!
You also get a free ice cream just for signing up and downloading the app.
If you're a frequent Marble Slab customer, you'll also enjoy points for every dollar you spend which you can redeem for free ice cream.
PRO TIP: Download the app at least 48 hours before your birthday to get your birthday freebie plus your your welcome bonus.
4. Dunkin Donuts Birthday Freebie
Everyone loves Dunkin' Donuts! So we had to include them in our list of birthday freebies.
All members of the DD Perks rewards program get a free medium beverage on their birthday. They ask for your birthdate when you register and send you the free coupon via email.
5. Denny's Birthday Freebie
Last but not least, Denny's has a birthday freebie for all of you breakfast lovers out there!
Probably one of the most popular freebied on your birthday, just stop by your nearest Denny's with your photo ID and you'll get a free build-your-own grand slam.
No sign up required! But if you want other perks like a 20% off welcome gift, then sign up to Denny's Rewards here.
---
There's no doubt about it, free birthday stuff just makes getting a year older sweeter!
Be sure to share this list with your friends so they can take add some freebies to their birthday, too.
How to Get Even More Freebies
Want freebies every day, not just on your birthday? Here's all you need to do:
Join Freebies.com (it's free!)

Create your free Freebies.com Membership today: http://signup.freebies.com

Set Up Your Account

Once you've joined, sign in to Freebies.com and add your full address to your "My Account" page to make sure we cans ship your freebies right to your door!

Earn Free Ballots

You'll earn free ballots every day to cash in for freebies. You can earn free ballots by: - Visiting the Site Daily - Answering Polls - Taking Quizzes - Reading Daily Freebie Alert Email -

Collect Freebies

Use your free ballots to enter Freebies Exclusive Giveaways like gift cards for popular restaurants and retailers, beauty prize packs, and the best baby samples. Browse them daily here: https://freebies.com/exclusive-giveaways
Can't get enough freebies?
Check out these popular ways to save money by getting more free stuff: