Holiday Toy Guide 2019: Deals On The Hottest Toys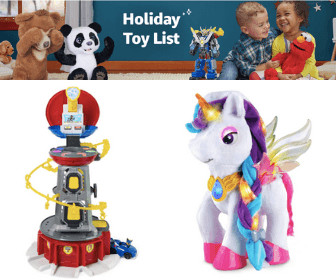 It's November, which means it's already time to start shopping for holiday gifts! We believe the earlier you start, the more organized you'll be.
Stores are already releasing their gift guides and most popular toys for 2019.
Check out our holiday toy guide and see what great deals you can find the hottest toys!
For your ease and convenience, we've included links to purchase the items and have them shipped directly to your home!
Myla The Magic Unicorn
This is one hot toy that is selling fast! VTech's Myla the Magic Unicorn can play six different activities, sing, light-up in different colours, and more. Kids can even "magically" transfer colours to Myla with the magic brush.
Amazon currently has it in stock, but they are going quick!
Paw Patrol Mighty Pups Super Paws Lookout Tower
We're sure you're well aware that Paw Patrol products are always popular, the Paw Patrol Mighty Pups Super Paws Lookout Tower is one of 2019's most popular toys.
The tower is 2 feet and ¾ inches tall has a working elevator and zipline, and has 6 rescue missions!
It's currently available at Amazon!
Elsa's Ice Palace By Little People
If you have a Frozen fan on your list, you'll want to check out the Elsa's Ice Palace by Little People! The palace lights up, makes sounds, and sings "Let It Go"!
Buy yours here.
Crayola Ultimate Light Board
If your kids like colouring, they're sure to love the Crayola Ultimate Light Board. Kids can colour on an LED light board with 6 Gel FX markers.
The light board easily wipes for new drawings and makes a great gift for kids aged 6-9.
Get yours here.
LEGO Harry Potter Great Hall
Are your kids LEGO fans? How about Harry Potter fans? This gift is the perfect combination of 2 great things, LEGO and Harry Potter!
This building kit is for the Hogwarts Great Hall complete with house banners, movable spiral staircase, potions room, treasure room, and magic items.
It includes 878 LEGO bricks and features 10 fantasy figures: Harry Potter, Ron Weasley, Hermione Granger, Draco Malfoy, Susan Bones, Professor McGonagall, Hagrid, Albus Dumbledore and Nearly Headless Nick and Professor Quirrell.
This toy was the 2019 Toy Of The Year Winner!
It's currently $30 off and on sale for $99.99.
2019 Holiday Barbie
A Holiday Barbie is a classic toy and always makes the perfect collector's item and gift. This year's version features a silver and red, candy cane-style gown.
The doll is designed for children ages 6 and up, and includes a doll stand and certificate of authenticity.