This Heated Blanket For Your Car Is Your New Best Friend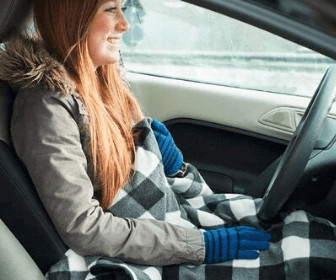 The cooler winter weather has hit many parts of the country, and many regions already have snow on the ground.
Heated Blanket
When it comes to winter driving, it's always a good and safe idea to keep a blanket in your car in case of emergencies. This heated blanket is a step above that because it plugs right in your car and will keep you extra warm and cosy during your winter drives.
The 12-volt product plugs into any vehicle's cigarette lighter and will stay warm until you unplug it. It comes with a 96-inch long cord so that anybody in the car can enjoy the blanket.
Winter Driving Hack: Cat Litter
This may sound strange, but cat litter is also an important item to keep in your car during winter driving. Why? If ever get stuck in the snow and your tires start spinning out of control, use cat litter to add traction. Simply spread the litter under the tires and you'll be able to free your car from snow or ice.
You can get cat litter from as low as only $10!