Chocolate Chip Cookie Layered Pudding Recipe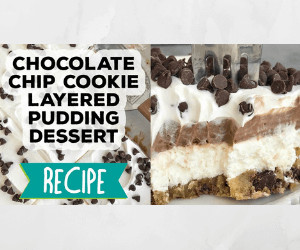 This dessert has layers of sweet chocolate chip cookies, cream cheese, pudding, and is topped off with whipped cream. This no-bake dessert is perfect for any holiday dinner.
This recipe is courtesy of Together As A Family.
Ingredients
1 tube (16.5 oz) refrigerated chocolate chip cookie dough
1 bar (8 oz) cream cheese, softened
1 cup powdered sugar
2 cartons (8 oz) Cool Whip, divided
3 cups half and half milk
1 small box chocolate instant pudding mix
1 small box vanilla instant pudding mix
miniature chocolate chips for topping
Instructions
Let the tube of cookie dough stand at room temperature for 5-10 minutes to soften so it's easier to press into pan. Heat oven to 350 degrees and lightly spray a 9x13 baking pan with cooking spray.
Press chocolate chip cookie dough into the bottom of the baking dish. It's easier if you cut the tube of cookie dough into 12 slices and then lay the slices in the pan, and then press them together to form the 1st layer. Cook for 15-17 minutes and let cool completely.
In a mixing bowl beat together the cream cheese and powdered sugar until blended. Add in 1 tub of Cool Whip and mix together until blended. Spread onto the cooked and cooled cookie layer.
In a mixing bowl, add both pudding mixes and the half and half milk. Whisk together for several minutes until combined and starts to thicken. Let it sit for 5 minutes until it's very thick. Spread over the cream cheese layer. Spread the other tub of Cool Whip on top for the 4th layer. You don't have to use the entire tub. Use however much you want.
Cover with saran wrap and let refrigerate for at least 8 hours but preferably overnight.
Before serving, sprinkle the top with miniature chocolate chips. Cut into squares and serve.