Benefits Of Salt Lamps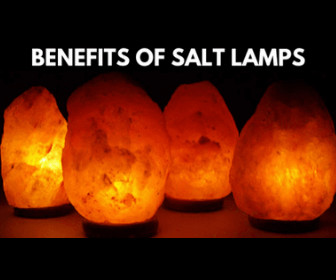 Salt lamps are not only pretty and nice decor, but these lamps have a very important utility that is now proven by science. They create negative ions that have several recognized benefits for your home or workplace.
There are many ways to create negative ions in your surroundings; taking a shower is one of them. Negative ions are recognized scientifically for their positive action on our mood. Salt lamps create negative ions and they reduce the production of positive ions that are harmful to our physical and mental health.
You can easily get a salt lamp or this nice basket of salt crystals for less than $25 on the web. Just plug them in and, while warming up, they do their job. Anyway, it is advisable to keep them away from a source of humidity such as the bathroom or the dishwasher. Moisture facts melt.
The lamp sellers will make you glow miraculous properties of these lamps, but let's face the truth. Here's a list of 8 great attributes of these lamps!
Reduce Static Electricity In The Air
The theory is that computers and other devices cause a surplus of static electricity in the air which leads to toxic office syndrome.
Negative ions help reduce static electricity. Light your lamp!
Purifies The Air
It is scientifically recognized that salty air - by the sea or artificially recreated - helps people with respiratory illness. Moreover, a study on miners in salt mines like the one used to make these lamps does not suffer from respiratory diseases like asthma.
On the other hand, you would need more salt than what can emit a lamp to recreate the salty air of a seaside or a salt mine. Take a bath with coarse salt if you can not go to the seaside.
Reduce Symptoms Of Asthma or Allergies
Salt lamps attract pollen, dust and even mold and mites to the air. That's why one or two salt lamps in a room help to sleep. Be careful to regularly clean your lamp so that it is more effective.
Tip: turn on the lights a few hours before going to sleep and turn them off to sleep better in a dark room.
Help With Breathing
Salt lamps help purify the air by attracting harmful particles and increasing the level of negative ions in the air. This helps keep the tiny hairs that cover the airways clean and therefore helps with breathing.
Increase Energy Levels
It is known that walking in the wild increases your energy level because of the negative ions found there. On the other hand, the negative ion level produced by a single lamp is probably far from being equivalent to what is found outside. Get out and get some fresh air.
Helps Sleep
Too many positive ions prevent you from sleeping well, it is recognized, but do not run to buy a lamp if you suffer from insomnia. Adding negative ions to the air helps reduce depression, but does nothing for anxiety and other causes of sleep deprivation.
Find more details on the sleep study here.
Reduce Symptoms of Seasonal Depression
It's not just light that helps reduce the negative effects of our short winter days; there are also negative ions. Research on a group of people suffering from this syndrome has noticed a 17% improvement in the subjects. Put a lamp on your work table.
Reduces The Effects Of Stress
Stress greatly reduces our performance and limits our concentration. The presence of negative ion is recognized as an effective treatment against the side effects of stress.