Free Food at Restaurants: How To Get The Most Freebies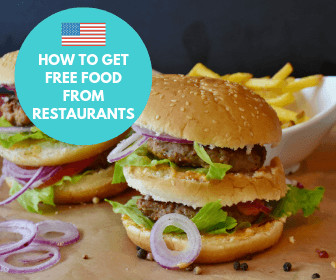 They may say there's no such thing as a free lunch, but we strongly disagree! We've got the answers on where to get free food!
You can get free food from some of the country's best fast food and restaurant chains when you join their loyalty programs or download their apps.
From free burgers and appetizers to ice cream and desserts, there are plenty of delicious food freebies up for the taking!
We've compiled our list of favourite food freebies and explained how you can easily claim them. Be sure to share this list with any friends who would be interested.
Don't forget, we also have posts on the top American birthday freebies for adults and free baby samples!
Top Free Food Offers:
Olive Garden

IHOP

Jersey Mike's

Baskin-Robbins

Wendy's

Arby's

Del Taco

Krispy Kreme

Wienerschnitzel

Sonic

Dairy Queen
Quick Tips:
Before you check out the offers, we have a few quick tips to note:
Many of these offers require you to download an app

Some of these offers require you make a purchase (often a soft drink for fast food freebies)

Offers can take up to 24 hours to be received
Olive Garden
One of the country's most popular restaurant chains is offering free food when you sign up for their e-Club.
Sign up and get sent a coupon valid for 1 free dessert or appetizer: the choice is yours!
IHOP
What could be better than starting your day with free pancakes?
Join the IHOP Pancake Revolution loyalty program for free pancakes! You'll get the offer to your inbox within 24 hours of joining.
After the initial free pancake offer, loyalty program members also enjoy:
Free birthday treat

An anniversary offer (1 year after the date you signed up)
Jersey Mike's
Your mobile phone is a gold mine for food freebies! Jersey Mike's is offering free subs (with purchase) when you order through their app.
Baskin-Robbins
I scream, you scream, we all scream for free ice cream!
Here is another app freebie! Download the Baskin-Robbins mobile app and get a digital offer 1 free regular-size ice cream scoop at your next visit.
Plus, you'll also get another free scoop on your birthday.
Wendy's
This is not a constant freebie offer, but Wendy's offers free food through their mobile app. Wendy's will offer a new food freebie every few weeks or so.
Right now, Wendy's is offering a free 6-pack of Spicy Nuggets with any purchase. Once you download the app, you should find the deal on the offer page.
Arby's
Are you thinking Arby's? Join the Arby's mailing list and get a coupon for a free Signature Sandwich with the purchase of any sized soft drink.
Del Taco
It's hard to think of something better than free tacos. Get 2 free Grilled Chicken Tacos when you join the Del Taco Raving Fan Club!
Bonus freebie: Raving Fan Club members also get free Premium Shakes on their birthday!
Krispy Kreme
Come to think of it, free doughnuts may be even better than free tacos!
Join the Krispy Kreme Rewards Program and get a free Original Glazed doughnut just for signing up.
Plus, Krispy Kreme frequently sends out free doughnut offers to rewards members at random. So you'll get a sweet treat now, and more throughout the year.
These free doughnuts are often offered when:
Krispy Kreme releases a new flavour

It's a holiday or a holiday is near
Wienerschnitzel
Join the Wienerschnitzel loyalty program and get a free chilli dog! All you need to do to claim the offer is sign up on the program's registration form.
Sonic
Thirsty? Get a free Slush at Sonic when you download the Sonic Drive-In app and set up your account. The best part of this offer? There is no purchase required.
Dairy Queen
Here's another chance to get free ice cream! Download the Dairy Queen app today and score a free small Blizzard.
Yum!
Do you know any other places to get free food? Share them with us in the comments below!
More Money-Saving Tips
If you liked this post, be sure to check out these other money-saving tips on the site: