How To Get Rid of Fruit Flies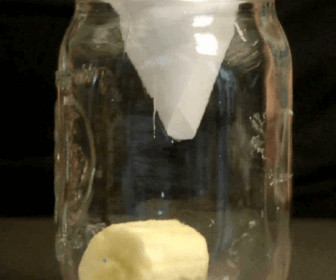 Are fruit flies ruining your summer fun? Check out how to get rid of fruit flies with this easy trick.
One of the worst things about fruit flies is that they show up anytime throughout the year, not just in the summer!
We've posted some other useful Shareables on getting rid of ants and wasps, and we have a new one for you!
Fruit flies come into our homes and do not waste any time multiplying. Before you know it, it may seem like your home is infested with fruit flies.
There are several tips on the web for getting rid of fruit flies, but we've found this trick works best. Be sure to share this life hack with anyone you know who would find it useful.
Quick Tips:
It is impossible to completely eliminate fruit flies, but it is possible to make your kitchen inhospitable to these small pests. With this simple trick you make sure that as soon as they arrive at your home, they find the trap before they lay their eggs and start multiplying.
The trick is to make any fruit or syrup easy to access and make it difficult to get out of the container. The ideal way to get there is by using a funnel.
Assembling the Funnel
Make sure you do not make the bottom of the funnel too big and seal around the container. To empty the pot, cut off the air supply. It is thus convenient to have two pots to prepare another as soon as the fruit of the first no longer attracts flies.
Use fresh fruit instead of a liquid. Flies will not be attracted to flies embedded in a liquid, but they will be attracted to the fruit. If you want to include more sweetness, you can always add a little cider vinegar without covering the fruit.
Tips to Avoid Fruit Flies
Washing fruits and vegetables in a sink filled with water as soon as you get home.

Put drops of white vinegar on your compost container.

Keep your compost in the freezer and take it out on the day of picking.

Rinse cans, glasses, cups, bottles immediately after use

Put a few drops of white vinegar on a cloth or a towel and cover the fruits and vegetables that are in the open air.
Do you have more tricks to getting rid of fruit flies? Share them with us in the comments below.