How to Feed a Family of 5 on $200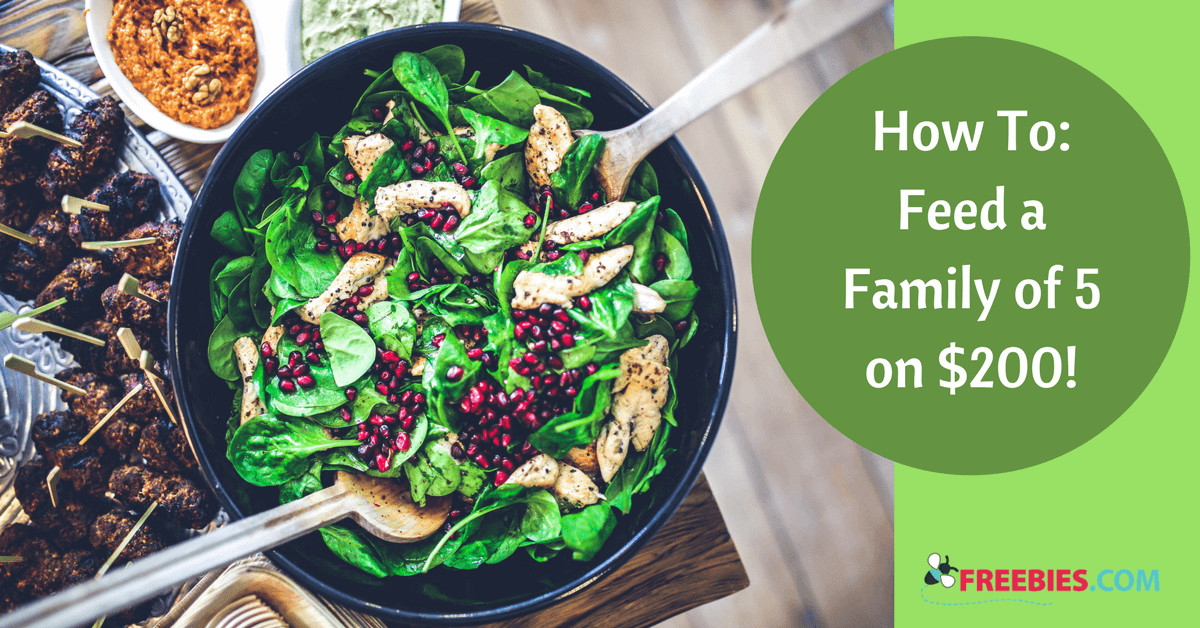 Feeding a large family can be tricky, when you are on a budget that is one thing I definitely know for sure. Even when money's tight, everyone still has to eat, so what are you to do? I've learned through a process of elimination and trial and error what works for our family, and how you can feed everyone on a strict budget. I'm not talking about minimal food either, there's no starving, or kids still being hungry after they eat with this method of shopping. Instead, quite the opposite it true!
So follow along with me and learn how you can change some grocery shopping habits, and learn some amazing new recipes that can help you feed a larger family for only $200 a month. Please keep in mind that prices differ from location to location, so this is just an average. Some of you may be able to do it for less, and some a little more.
Make Some Changes
We all don't really like to choose to go without, but it's probably one of the biggest ways our family has learned to save.
Some of the ways we go without are:
For those that take a sandwich in their lunch every day, you can change it up a bit to save on some ingredients. For example, one day may be a meat and cheese day, while the next can be a meat and lettuce day. By alternating and doing this for example, you can save tremendously on the amount of cheese you buy in a month.
We don't splurge in a lot of snacking foods in our house. This is one of the biggest ways you can jack up your grocery bill. Instead we eat more items like nuts, fruit, homemade cookies, and raisins. We still buy chips or even crackers from time to time, but that's when they can be bought at a great price.
Speaking of crackers, another way to save big is by the crackers you buy. My kids were in love with taking peanut butter or cheese filled crackers to school for snacks. This can get pretty pricey, pretty quick. Instead of buying the prepackaged crackers, I purchase saltine crackers, and put my own peanut butter or even cheese spread (when on sale) on them. Yes I have to put them in little bags myself, but for the savings, the convenience of the prepacked ones is not necessary.
Meat is always the biggest challenge when it comes to keeping your grocery budget so low. We do a few different things to save on it each month. One of the biggest ways we do this is to not buy the most expensive cuts. When have a maximum price that we will spend of $2 a pound. Which means there are times we won't eat things like steak or bacon very often, but when we do it's definitely a welcomed treat.
One of the biggest benefits we've noticed as a family in going without is that you learn to appreciate the things you have even more. An example of that is when we do get to eat bacon or have a steak from time to time, this is a real treat and it's definitely enjoyed more than if we had it daily.
Cook Homemade from Scratch
I grew up in a home where my mother learned to cook from my grandmother, and everything was made homemade from scratch with love. While buying the prepacked items is definitely a convenience, it can really cost a lot of money really quick.
So cooking from scratch may take more time, but with a bit of meal planning you can learn how you can save time and money. One of the first things I do that really helps is to cook in large quantities, such as chicken or ground beef (again when on sale), and then freeze it up into much smaller portions. This way whenever a recipe calls for a couple cups of chicken or ground beef, I already have it available. Making two times the amount of something doesn't take much time at all. And it helps on those days when you may be a bit busier than normal. You can then just pull a meal or ingredients already cooked right out of your freezer.
Have Your Own Price List
This might sound crazy, but it's really not. It's a great way to help you save money all month long. Keep track of the stores around you that have the lowest prices on items that you use frequently. This is what I use when I want to see when the best time to stock up on an item is. Keeping your own price list takes less time than you may imagine, it really pays for itself in the end.
$4 Menu for the Entire Family
So now that you've learned a few tips and tricks, let's take a look at a sample menu that you can make almost every time for around $4. Yes, you heard me, not $4 per serving, but $4 total for the entire family. This is where your price list will definitely come in handy.
Sample Menu #1
Breakfast: Oatmeal with brown sugar, raisins, or cinnamon. Banana on the side
Lunch: Peanut Butter with Jelly Sandwich, Sliced apples, and cheese cubes
Dinner: Roasted Chicken (Whole chicken) with carrots and potatoes
Snacks: Homemade Cookies or Crackers
Sample Menu #2
Breakfast: Banana Muffins and Sliced Oranges
Lunch: Hard boiled eggs with cheese cubes, saltine crackers and fresh pineapple
Dinner: Homemade Chicken Noodle Soup (From leftover chicken) and fresh bread
Snacks: Apples or Oranges
These are just a few of the sample menus I use to feed my family for only $4 each meal. This helps to keep our budget down to around $200 each month. As you can see we're definitely NOT starving. If you enjoyed these menus, let me know, I'd be happy to share more with you in a future article.