Free Dog Food Samples & Other Free Pet Samples for Your Furbaby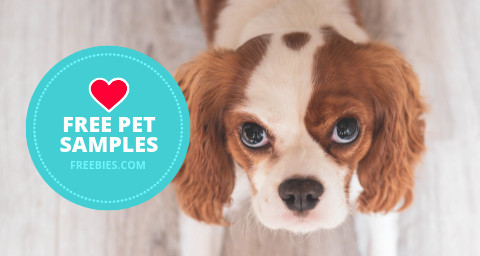 Looking for free dog food samples for your furbaby?
Or maybe some free cat treats for your fluffy princess?
Pet parents love to test and try different free pet samples because let's face it - our four-legged kids can't talk, so it can be a bit hard to tell what they like sometimes.
So before commiting to that giant bag of kibble or that fancy new clumping litter that's sure to work, find yourself a free sample and run it by "the boss" first.
Free Pet Samples
You're in luck! Free pet samples are some of the most common free samples available online.
Along with free makeup samples, birthday freebies, and free baby samples, you can find free samples of popular pet products on the freebie scene from brands like Purina, Royal Canin, and Petsmart.
The one question remains - where to find them fast before they run out?
Where to Find Free Pet Samples
Both big name brands and smaller pet supply companies offer free pet samples online and in-stores that are yours for the taking.
Keep reading to find out where you can grab the most popular freebies for cats and dogs.
Free Dog Food Samples:

Free Cat Food Samples:
Free Pet Treat Samples:
Pet treats are also common free pet samples available online, for both cats and dogs. Like with the free dog food samples, you'll probably get a small package sent right to your address. Due to smaller products and packaging, these are easier to ship.
Free Happy Dog Tasty Sticks: Answer a quick survey of dog-related questions and you'll get a free sample of Happy Dog Tasty Sticks, a UK-based company (while supplies last.)


Ageless Paws free treat samples: Pay $3.99 for shipping and you'll get a free 0.3oz bag of treats - choose from Wild Salmon, Bison, Turkey Heart, and Chicken Breast.


Blue Buffalo: It's not a free sample, but Blue Buffalo will mail you a $1 off coupon so you can compare their dog treats with top competitiors, like Milk Bones.


Other Free Pet Samples:
Most free pet samples available are for dogs and cats, but sometimes you might find free bird food, small animal food samples, grooming kits, and other free stuff for pets.
Free Skout's Honor Grooming Kit: You can request a free probiotic grooming kit sample, but there are only a certain amount each month so you may have to wait on the list for a bit (only available in the US).


Free WizSmart Training Pads: You can sign up for a free puppy training pad sample, they give out a limited quantity every week (if you don't make the cut off, you still get a 25% off coupon).


Petco: Petco Pals is the loyalty program for the popular pet store. While they don't directly send free samples, you can get points to exchange for free items (plus access to other discounts and freebies, like a free nail trim for your pet).


BarkBox: This is a paid subscription box for your doggos, but they often have promotions that coincide with holidays (like national dog day) where they offer their subscriptions for $5.00 or an equivalent discounted rate. Dogs love their toys and treats!


Free Vet Exam from Banfield: Get your furry friend checked out for free at a Banfield location near you - just print the voucher and bring it with you!



Free dog toys: These ones are harder to come by as they are more expensive. BUT one way you can get access to free dog toys is by becoming a toy tester. Sites like Tough Dog Tested will send free products to you and your pup to try out. There are several sites like this, but some are not actively accepting new testers so you have to check it out.
How Do I Get My Free Pet Samples?
Pet companies will typically send mailed samples of their food right to your house, so you will need to provide an address (and potentially pay for shipping for full-size product samples).


The company may send a small sampler pack of their flavours or even a free full-size can of food.


For example, Purina is known to mail individual samples of their Purina cat food and dog treats. These are the best because you just need to fill out the form and await your free stuff by mail! No pick up, no surveys, just a sample.


Whether big or small, pet supply companies are always trying to get consumers to switch to their food and are happy to offer samples to convince you. We believe try before you buy is always best, especially when it comes to our finicky furry friends!
Where Can I Find More Free Samples?
Did you know that we give out free pet samples as part of our Freebies Exclusive Giveaways?
We add new gift card prize draws and free sample giveaways to the site every day!

Keep your eyes open for pet freebies like a PetSmart gift card, free puppy training pads, and product prize packs.

Next time you see one posted, enter by using the ballots you earn on the site.
Our Freebies Team is always on the lookout for the best, newest, and most legitimate free pet samples for our members to enjoy. We vet (no pun intended!) and verify every single one of the offers that we post so you can rest easy knowing you're getting great quality freebies.
Know of a great sample that we've missed?
Let us know in the comments so we can share it with the rest of the Freebies Community!
---
Not a Freebies Member?
You can sign up free here and get immediate access to unlimitied freebies today.