10 Things You Should Never Buy At The Grocery Store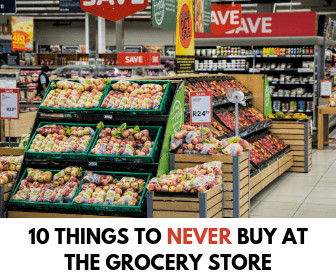 You may enjoy shopping at your local grocery store, however, you may not know they are ripping you off! There are 10 things you should never buy at the grocery store.
Continue to support your local store, but skip the following 10 items. These are the products you should never buy at the grocery store because there are much cheaper options.
Don't forget: We also posted an article on 5 things to never buy at the dollar store!
1. Greeting Cards
Anyone who bought a grocery greeting card felt the shock of the price. A minimum cost of $4.95 for a piece of card stock with a nice design? We can do better. Go to a dollar store and choose interesting options for only a dollar. Or if you are cunning and creative, just make your own, and the kids will be happy to help.
2. Batteries
Batteries are an essential part of life, especially if you are a parent on Christmas morning. However, there is no reason to pay full price. Head to the warehouse of your choice - Costco, among others - where you can take advantage of bulk packages that reduce your cost per battery.
3. Magazines
A single issue of a magazine at the grocery store will cost you at least $4-$5. For many publications, you can register for the whole year's subscription for less than $20. There are also many ways to get reduced access to your favorite titles online. Or go to your library where, you guessed it, magazines are FREE!
4. Diapers
Who knew that it cost so much to keep your baby clean and dry? Experienced parents know this, but it's often a surprise for new moms and dads. Using cloth diapers that you can wash and reuse is always an option, but for many people, disposable materials are the only way to go.
Shopping at the grocery store is easy, but you will pay a lot less per diaper by b buying in bulk or by subscribing online. Plus, if you plan deliveries properly, you should never have to worry about going out at night to find diapers.
5. Alcohol
Beer and wine are very profitable for grocery stores, but you can minimize the price by buying in the warehouse. You can also buy a kit to make your beer and wine. It is a much cheaper option.
6. Toothbrushes
Are you buying toothbrushes at the grocery store? Are you going to the dentist? If so, you will find that they have drawers full of toothbrushes. Most people go to the dentist once every six months, and you should change your toothbrush every three months. However, we will bet that, if you ask nicely, your dentist will give you two to last until your next visit.
7. Birthday Cakes
Getting a birthday cake at the grocery store is convenient, but it's not so cheap, especially if you have to feed a crowd. Instead, we refer you to your warehouse store where you can get a giant cake decorated for the same price that many grocery stores charge for kids. Or, you can make one for a small price!
Try these great recipes for birthday cake inspiration:
8. Pet Food
The grocery store is not the worst place to buy pet food, but you can do better. A simple search on the web will give you wholesale sites offer competitive prices, coupons and loyalty programs that can give rise to free food.
9. Bottled Water
Unless you live in a city where water is not drinkable there is no reason to buy bottled water ... period. The water in your faucet will hydrate you very well. Invest in a few reusable bottles and fill them for less at home. Purchase a filter pitcher and keep it in the fridge for a cool cold drink when you want and fill up your reusable bottles. If you absolutely must have individual bottles from a store, buy them at your warehouse store.
10. Frozen Waffles
Making pancakes and/or waffles at home is super easy. A basic recipe takes about five minutes to do and not much longer to cook. Cook a large amount on the weekend and freeze the extras to feast on weekday evenings.
More Money-Saving Tips
If you liked this article, check out these other frugal living tips on our site: