Top 10 Ways to be Happy and Healthy in 2018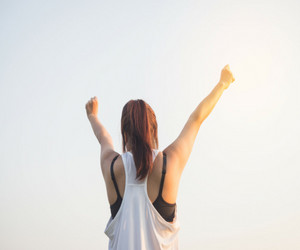 It's that time of year again, resolution season. While many people make New Year's Resolutions, many people often find them hard to achieve and disappoint themselves when their resolutions don't work out, or if they deviate from their plans.
We here at Freebies.com want 2018 to be your best year yet. Resolutions are definitely one way to have a great New Year, but we have also come up with our Top 10 Ways to be Happy and Healthy in 2018.
Appreciating what you do have is crucial to enjoying your life. Be grateful for the great things in your life, like your friends and family, those around you, and everything else you value in your life.
Kindness is key, always. As we were taught as children, do unto others as you would have others to unto you. Kindness is never overrated and is always appreciated.
Try your best to stay positive. We all remember what Forest Gump's mom said, life really is like a box of chocolates. Try to navigate everyday challenges with as much positivity as possible.
Challenge yourself to a realistic goal, and try to reach it! This can be as simple as learning something new, developing a new hobby, or challenging yourself to complete a whole workout video. This does not need to be a resolution of "quitting" something, but can be the start of something new.
A great way to relax and destress after a long day is to turn off your phone and/or electronic devices and just decompress. Try reading a good book or flipping through a magazine. This creates a relaxing bedtime routine, as the brightness of the screens can lead to trouble when trying to fall asleep.
Try to make a conscious decision to make better food choices in 2018. This doesn't need to be drastic, but looking for simple ways to incorporate more healthy food choices will definitely have your body feeling better in 2018. Make sure to eat your vegetables, and try to get as much "green" food on your plate as possible!
Help your mental and emotional health by giving back and helping others. Give back to your community through volunteering, donating, or supporting any cause that has meaning to you. Giving back really does make people happy, and can support your emotional wellbeing.
Staying active is an important part of keeping a healthy lifestyle. Not only that, but exercise also released endorphins, which bring you happiness. Being active can be as easy as going for a walk or bike ride, or more strenuous depending on your activity level.
A great way to get active is to try and do minor exercises during day to day activities. For example: try doing jumping jacks or squats during the commercial break of your favourite show, or challenging yourself to 10 pushups before hopping in the shower.
Connect with Those Around You
Make time for the people who matter in your life, and make it a priority to spend time with them. Connecting with others is an easy way to enjoy life and the company of your friends and family.
So many people underestimate the power of a good night's sleep, but this is super easy trick could really improve your life in 2018. According to Vanderbilt University's Health and Wellness Department, you should aim for 7-9 hours of sleep each night, and that getting a good night's sleep helps develop a focused and energy-filled lifestyle.