Rescue Goat With Anxiety Only Calms Down In Her Duck Costume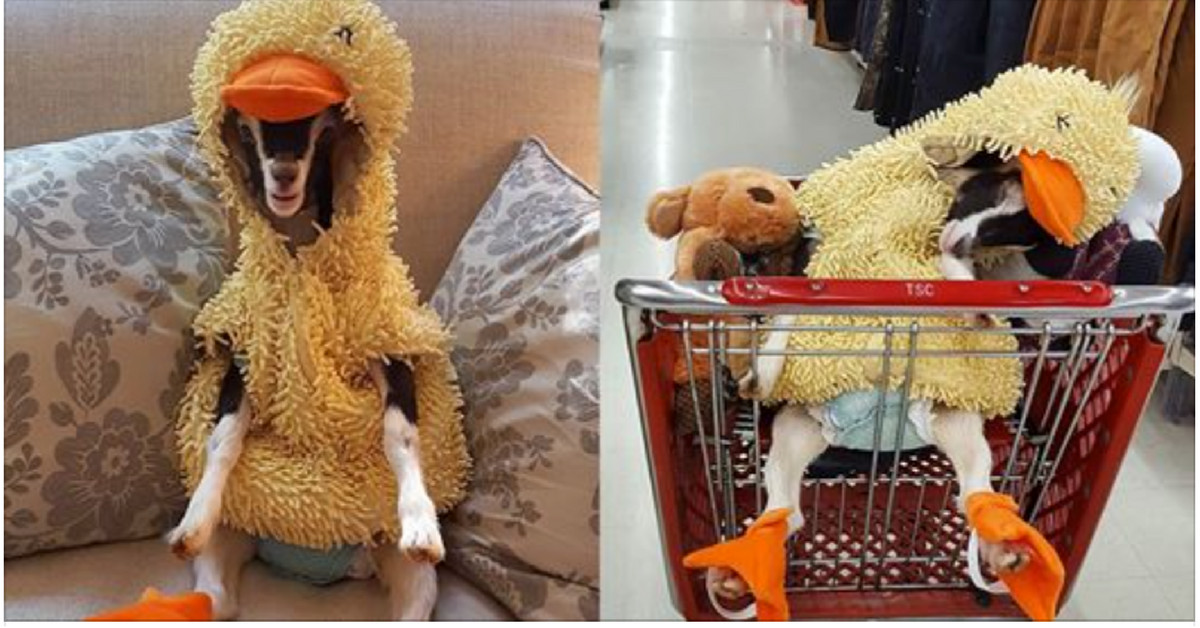 This all began when Leanne Lauricella was out shopping and a child's duck costume caught her attention.
Lauricella runs Goats of Anarchy, a goat rescue group located in New Jersey. She figured that the duck costume would be a cute look for her baby goats. In particular, Polly, her most recent rescue goat. She bought the costume and took it home, not thinking it would be a big deal. She had no idea that Polly would fall in love with the duck costume.
The duck costume was first put on Polly for a photo. That's when something really amazing happened. "As soon as I put it on her, she just instantly got calm," Lauricella said.



Baby goat Polly has many major medical issues including blindness and neurological issues which affect her ability to eat. This has caused her to be extremely underweight.
The duck costume seemingly had the same calming effect as being swaddled in a blanket. Only for Polly, the duck costume was more effective than anything else. There was a calming effect that only the duck costume could provide.



Other costumes seem to have the same calming effect on Polly, including a pig costume and a fox costume. But the duck costume remains Polly's favorite.




Polly might be small now, but Lauricella expects her to get a little bigger... and eventually outgrow her duck costume. "I've started regretting that I didn't buy the next size up," she said.
But Lauricella might have found a solution — another rescue goat named Pocket who arrived a few days ago and is handicapped. "When Pocket came home, I laid him on [Polly's] back.... and it just calmed her right down and she went to sleep," Lauricella said. "It was almost like that duck costume. I've noticed that anytime he's lying next to her, she just gets calm. I've never seen her do that with another goat here.
Now, whenever Polly has an anxiety attack, Lauricella puts her into the duck costume, and voila — instant calm. "She just calms down and goes to sleep," Lauricella said. "Instantly. It's become a thing that she's known for."
The duck costume is also useful when Lauricella has to run errands, but can't leave Polly alone at home. When Lauricella once stopped at a local store, she put Polly into her duck suit, and the little goat snoozed in the shopping cart.
Polly runds frantically all over the house when she can't find Lauricella. Polly also has some odd habits, which Lauricella thinks are related to anxiety issues. "She'll find a corner of a wall in the house, and she'll just start sucking on the wall," Lauricella said.


When Polly eventually moves outside, Lauricella hopes Polly and Pocket will continue to be best friends. "I'm hoping she won't need [her duck suit], Lauricella said. I hope that Pocket becomes her duck suit.