Festive Recipes for Rice Krispies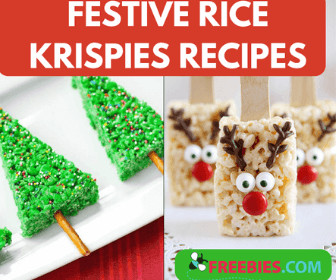 Who doesn't love Rice Krispies squares?
The holiday season is upon us, and nothing will brighten your season like these festive Rice Krispies treat recipes!
Here is the basic recipe for the squares, all you need to do is add food coloring!
Ingredients
6 tablespoons of margarine or butter
6 cups of mini marshmallows
1/2 teaspoon of vanilla extract
6 cups Rice Krispies cereal
Instructions
In a pot of steam or a saucepan of the appropriate size, melt the margarine over low heat (about 175 ° F).
Once the margarine is melted, add the marshmallows and stir until smooth.
Stir in the vanilla and mix well.
Add cereals and stir until fully coated.
Transfer to a large greased or parchment mold (see note below).
Using a greased spatula (or your hands), spread the mixture evenly in the pan and flatten it using a rolling pin.
Cool completely. (If you make the log, put the two layers one over the other and roll while it's hot.)
Unmold and, using a large knife, cut squares of the desired size.
TIP: The choice of mold depends on the dimensions of the final product. The quantity obtained depends on the size of the mold and the thickness of the squares. A 4 kg mix gives about 90 2 "x 2" x 2" squares.
Christmas Tree with Pretzel
Simply cut these into a tree shape and add a pretzel stick at the bottom!
Green & Red Christmas Log
Rice Krispies With Strawberry Santa Hats
Just add strawberries and whipped cream to make this simple treat!
Christmas Tree Krispies
Cut them into squares, add some sprinkles, and add one star-shaped tree tower!
Find even more recipes on the official Rice Krispies site!