DIY All Natural Beauty Products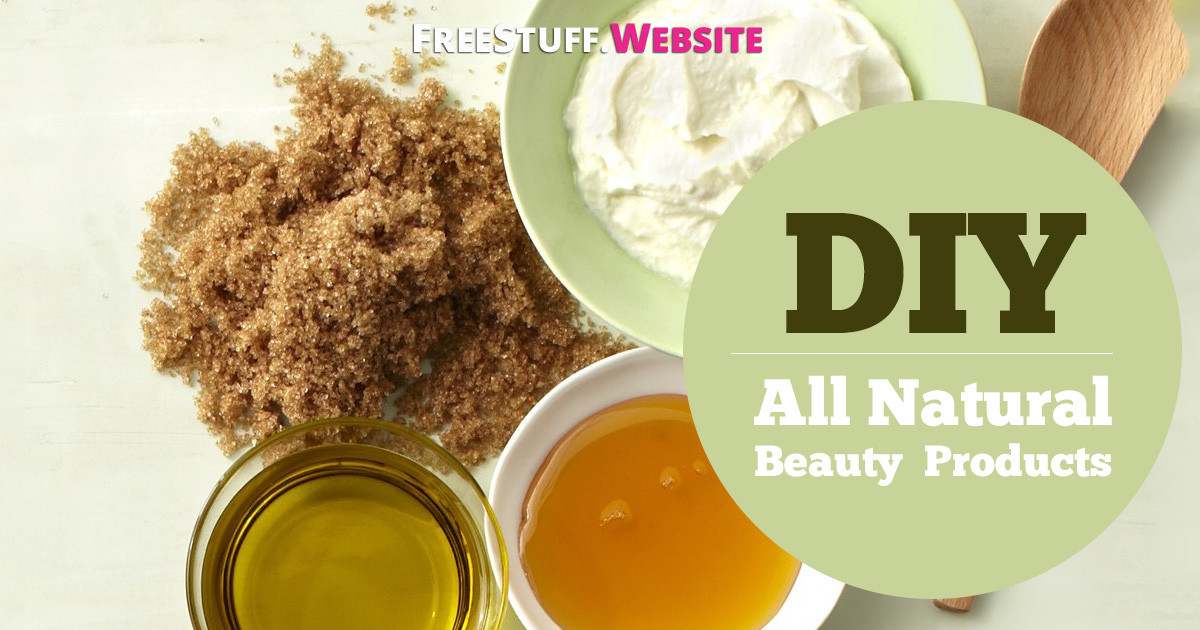 Did you know that you can save a ton of money on beauty products just by making them yourself at home? I didn't realize either just how much you could save, or how much I was spending on my beauty products for that matter until I started making a few here and there at home. There are so many recipes out there that show you how to use simple ingredients that are most cost efficient to save money. Let's take a look at a few of my all-time favorite beauty product recipes.
Hair Care Products
We really shouldn't put anything in our hair that has chemicals, not if we want it to look shiny and beautiful for many years to come. All-natural products you can make at home not only save you money, but you have the benefit of knowing what is in your hair, that's why I love these products.
Coconut Cream Hair Rinse: Deep Conditioning
(1/2 cup) 120 mL of grated coconut meat
(2 teaspoons) 10 mL of raw honey
(1/2 cup) 120 mL of coconut milk
Fresh coconut is amazing and will always give you the best results when it comes to this deep conditioner, but it's crazy how well this works!
All-Natural Homemade Shampoo Recipe
1 oz. Olive Oil
1 egg
(1 tablespoon) 15 mL of lemon Juice
(1 Teaspoon) apple cider vinegar
Not only will your hair smell delicious with this recipe, but it will also shine like you've never seen. Apple Cider vinegar provides a wonderful protective layer and allows your hairs natural beauty to shine through.
Sea Salt Spray for Hair
Empty Spray bottle
(1 cup) 240 mL of water
(1 teaspoon) sea salt
(1/2 teaspoon) 2.5 mL of coconut oil
I've always thought that after a day at the beach, my hair looked wonderful. After thinking about how I could get that look all the time, I thought why not Give Sea salt a try. When the sun and salt combine together it leaves you with a carefree, loose, lightened look and that's what this recipe helps to recreate.
Facial Cleaning Products
Homemade Face Wash
(2 teaspoons) 10 mL of baby wash
(2 tablespoons) 30 mL of water
(2 tablespoons) 30 mL of glycerin
(1/2 cup) 120 mL of olive oil
Empty pump bottle
Mix all ingredients into a food processor, or blender and mix until thick and smooth.
Face wash can be expensive, especially when it comes to finding one for your skin that actually works. Not to mention it costs an arm and a leg. This recipe is one of my favorites because it's extremely cost effective with only 4 ingredients, and the best part is it works.
Homemade Skin Brightening Toner
(1/2 cup) 120 mL of Lemon Juice
(1 cup) 240 mL of water
(2/3 cup) 80 mL of witch hazel
Plastic bottle or jar
This is one of the easiest, and best smelling skin toners I've ever tried to make. Clean your skin as normal, apply toner and you'll be ready to go for the day.
Homemade Pore Strips
Makeup brush
Microwaveable dish
(1 teaspoon) 5 mL of unflavored gelatin
(1 teaspoon) 5 mL of milk
If you're like me and don't like to spend a lot on your skin, especially those pricey pore strips, then you will love this simple recipe.
DIY Microdermabrasion
(2/3 cup) 160 mL of baking soda
(3-4 tablespoons) 45-60 mL of water
1 drop of essential oil (not necessary)
This is a great way to scrub the dead skin cells off of your skin. You don't have to add in the essential oil, I just put it in so it smells divine.
Makeup products
DIY Eyeliner
Capsule of activated charcoal (this can be found at a pharmacy)
Take the charcoal and dump out the contents in a small dish. Moisten a tip of a makeup brush or q-tip to apply. That's it!
Eyeliner just helps to give your eyes that extra pop to them, and this one is the easiest of all. With only one ingredient it's not too difficult to make your own.
All Natural Lip Stain
3 Blackberries
1 Raspberry
3 Pomegranate seeds
(1/2 teaspoon) 2.5 mL of olive oil
Small bowl and something to mix with
Sifter to drain
Small pot with a screw on lid
Mash up the berries in the bowl, add in the pomegranate juice and mix carefully, pour in the olive oi and stir everything together, finish by draining the liquid from the mixture.
You don't have to be concerned about any chemicals with this lip stain. It's simply amazing and smells fantastic when you are making it. You may even want to lick your lips a few times once you've applied it.
Homemade Plumping Lip Gloss
Clear unscented lip gloss
100% cinnamon essential oil
Pour about 8 drops of the cinnamon oil into the lip gloss. This stuff is powerful so be careful not to do it. You'll notice a little tingling on your lips, this lets you know its working.
Every woman I know, myself included love to have those nice, natural plump lips. But if you know, many lip plumper's cost a fortune, to get a good one. I've found a solution to this by making your very own. It works great, and you'll never go back.
DIY Eye Shadow
Arrowroot powder
Shea butter
*Cocoa powder
*Nutmeg
*Beet Powder
*Turmeric
*Allspice
*Any combination of the above spices
Everyone wants that natural beauty look, and now you can get it with natural ingredients you find at home. The best part is yes it saves you money but it looks 100% better than the more expensive options. Follow below for some color options for your eye shadow collection with the above ingredients.
Light Pink
(1/2 teaspoon) 2.5 mL of arrowroot powder
(1/2 teaspoon) 2.5 mL dried beet powder
(1/4 teaspoon) 1.25 mL of cocoa powder
(1/2 teaspoon) 2.5 mL of shea butter
Light Brown
(1/2 teaspoon) 2.5 mL of arrowroot powder
(1/2 teaspoon) 2.5 mL of shea butter
(1 teaspoon) 5 mL of cocoa butter
Mauve
(1/2 teaspoon) 2.5 mL of arrowroot powder
(3/4 teaspoon) 3.75 mL of allspice
(3/4 teaspoon) 3.75 mL of beet powder
(1/4 teaspoon) 1.25 mL of cocoa powder
Miscellaneous Beauty Products
Homemade Peppermint Foot Scrub
1 cup granulated sugar
Olive Oil or Coconut oil
Essential Peppermint Oil
You will eyeball how much olive oil/ coconut oil, and peppermint oil you want, this is because it's all about the texture. You want it to be slightly wet, but still a bit grainy. Add in the essential peppermint oil for that amazing smell.
Your feet need pampering too, especially after a long day of work, that's why you'll enjoy this amazing foot scrub with peppermint. Peppermint has been used for many centuries to ease tired feet, and I can attest to it smelling amazing!
DIY Moisturizing Shaving Cream for Men or Women
(1 cup) 240 mL of shampoo
(1 cup) 240 mL of conditioner
(5 tablespoons) 105 mL of lotion
(5 tablespoons) 105 mL of coconut oil
This amazing little recipe doesn't take long at all, simply mix all ingredients together until you have a smooth consistency. It's perfect for men and women because of its wonderful moisturizing ability.