Boston Cream Cheesecake Recipe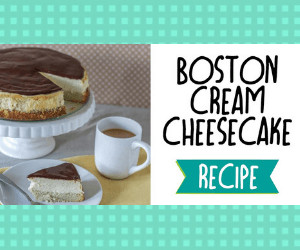 Let's be real, who doesn't like cheesecake?
This recipe makes a fabulous and low-carb Boston cream cheesecake. Bonus: this cake has a layer of gluten-free cake and is topped with cheesecake and a final layer of chocolate!
This recipe is from Low Carb Yum.
Ingredients
Cake Layer:
1 cup almond flour
1/3 cup coconut flour
1 1/2 teaspoons baking powder
1/2 teaspoon salt
1/2 cup butter softened
3/4 cup low carb sweetener or another sugar substitute
2 eggs
1 teaspoon vanilla
3/4 cup unsweetened almond milk or coconut milk
Cheesecake Layer:
3 blocks cream cheese (8 ounces each), softened
3/4 cup low carb sweetener or other sugar replacement
1 teaspoon vanilla extract
3 eggs
1 cup sour cream
Chocolate Layer:
6 tablespoons heavy cream
3 ounces low carb dark chocolate or 3 oz Lakanto chocolate bar
1 tablespoon butter
Instructions
Cake Layer
Preheat oven to 350°
Grease a 9 or 10-inch springform pan, set aside.
Sift together flour, baking powder, and salt.
In a bowl of stand mixer cream butter and sugar together until light and fluffy. Add eggs and
vanilla and continue mixing until smooth.
Add flour mixture and milk in alternating amounts, starting and ending with flour. Stir until just
blended.
Pour in a springform pan. Bake for 25 minutes until centre is set and a toothpick comes out clean.
Cheesecake Layer
Lower the oven temperature to 325
In a bowl of a stand mixer beat cream cheese, sugar, and vanilla together on medium-high speed until smooth.
Separately whisk eggs with a fork in a small bowl, add beaten eggs to cream cheese mixture on low until just combined. Stir in sour cream. Pour mixture over cake in the springform pan, spreading to cover.
Bake for 45-50 minutes until the outside edges appear set when gently shaken. Cool in pan on a wire rack for 15 minutes.
Loosen the edges of cake from the pan by running a butter knife around the cake. Allow the cake to cool completely. Cover cake and chill for at least 4 hours.
Chocolate layer
When the cheesecake is chilled heat heavy cream in a small saucepan until it almost comes to a boil.
Remove from heat and stir in chocolate chips until melted. Stir in butter until smooth.
Chill for 15 minutes and then spread over top of the cake.
Chill until ready to serve.