5-Minute Pepperoni Pizza Quesadillas Recipe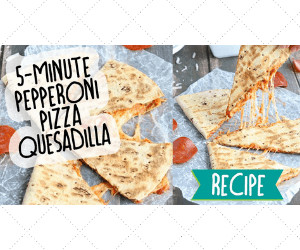 You won't need to choose between pizza and quesadillas again - this recipe is the best of both worlds! Plus, this recipe only takes 5 minutes to make!
This recipe comes to us courtesy of CopyMeThat.
Ingredients
1 flatbread
2 tablespoons of your favorite pizza sauce
1/3 cup shredded, reduced-fat Italian cheese blend
1/8 teaspoon dried basil
5 slices turkey pepperoni
additional pizza sauce, if desired, for dipping
Instructions
Lay flatbread on a work surface and spread pizza sauce evenly over entire flatbread.
On one half of flatbread, sprinkle about 2 tablespoons cheese and basil. Lay pepperoni slices evenly on top, and then sprinkle the remaining cheese evenly on top of the pepperoni.
Fold quesadilla in half, bringing the sauce-only half of the flatbread on top of the side with toppings.
Preheat a medium nonstick skillet over medium heat. Cook quesadilla, covered, for about 3 minutes on the first side, just until toasty golden-brown.
Flip the quesadilla over and continue cooking on the second side, covered, for about an additional minute, until cheese is melty and the second side of the flatbread is a light, toasty golden-brown.
Remove from heat, cut into wedges, and serve with additional pizza sauce for dipping, if desired.
Enjoy!