16 Truths Any Parents Can Relate To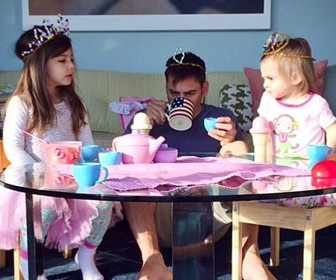 Parenting is full of interesting twists and turns. You never really know what to expect when you're expecting...at least not when it comes to those funny little moments. It's no doubt that #parentingproblems could fill the entire Internet. At least some of those problems are hilarious. These people were kind enough to share some of their little truths about parenting. What are some of your favorite funny parenting moments?
You'll never have your morning coffee in peace again.
You no longer need an alarm clock.
You spend a fortune on the perfect toy, and your child is only interested in the box it came in.
You can never display your ornaments within reach of small children.
Just when you thought flying coach couldn't get more uncomfortable, this happens.
You'll never have privacy again, so get used to it.
When your bored child decides to make a game using the groceries.
When you realize you need to keep your cosmetics behind a padlock.
This is how every road trip begins.
When you realize the stepping stool may have been a bad idea.
When you give your child some markers and he uses his face as the drawing pad.
You thought your kids would be fine in the backyard for five minutes.
You're children sample every piece of fruit only to decide that they don't like any of them.
You need to make dinner, but all your pots and pans are spoken for.
You now have to push two shopping carts when you go grocery shopping.
Your entire home will at some point be used as a jungle gym.